Tune your body to its natural frequency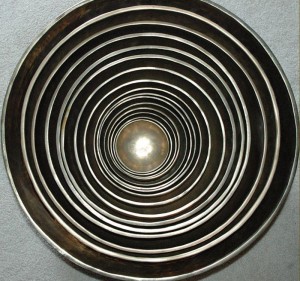 Sound and vibration therapy is one of the most powerful and transformative means to shift the body at the cellular level. The gentle, soothing tones of singing bowls open the flow of energy by touching every part of the physical, emotional, mental and spiritual bodies.
Harmonic waves of communicative energy from singing bowls remove stress and negativity that create blockages and cause dis-ease in your physical being. Coupled with intention, singing bowl vibrations are known to reduce stress, increase blood flow, rebalance the chakras and lower blood pressure along with other numerous beneficial healing effects.
Everything is vibration, science has proven this.

Where there is vibration, there is sound.

Experience the power of realignment with ancient singing bowls.
---
You Are Invited to Soul Camp West
Wonder Valley, Sanger, California

After a successful experience at Soul Camp East, Katherine has been invited to participate in sharing singing bowls at Soul Camp West 2015, October 28-31.
Campers can explore, learn about & experience singing bowls in a variety of different ways including both guided & non-verbal singing bowl meditations as well as hands-on interplay & interaction with the bowls. Campers are invited and encouraged to create their own conversation with a collection of singing bowls ranging from the 16th century to the present day.
Partnered with Harpo's Soul Pancake and Huffington Post's GPS For The Soul, SOUL CAMP is a 3-day 3-night mind/body/spirit & heart immersion. From morning reveille to lights out, "campers" (aged 21+) will be participating in a range of activities spanning from yoga, meditation, singing bowl meditations, qoya, astrology & angel card readings, bootcamps, breathwork, healing with horses, arts & crafts, S-factor and more. We will also be featuring a speaker series where campers can escape and listen to inspiring and empowering "SOUL-versations" from wellness experts and thought leaders in their field.
A healthy menu (with vegan & gluten-free options) created by Healthy Cooking Camp will be available at every meal. Evening activities will include a fear burning bonfire, a concert by the lake, a late night disco, color war, talent show and more.
For more information or to register, please visit Soul Camp West
If you register, enjoy a 20% discount by using the code KATHYSOUL.